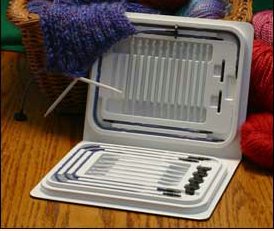 Yesterday was my birthday and I was spoiled with lots of knitting goodies and other things too!
My mother-in-law (who is probably the most avid reader of my blog) sent me the Denise Interchangeable Knitting Needles set AND two books – Sensational Knitted Socks and Last-Minute Knitted Gifts. Thank you so much, Viv!!! (I've already been playing with the needles and they are soooo nice!)
And The Boy got me Socks Soar on Two Circular Needles. I'm pretty excited to get started. My SweetGeorgia yarn is just waiting.
And on the sock front, my fabulous Mom – in her own fabulous style – bought me a pair of gorgeous Oilily boot socks. (Thank goodness – I love boot socks and I'm not prepared to knit for that long.)
I've also got a super nice secret pal – she's e'd me a bunch and sent a cool postcard from artist Andrew Bell.