The Boy was so sweet for Christmas – and thoughtful. He heard me and another girl talking about some knitting bag in Anthropologie a few weeks ago, remembered, and then went to kpixie and picked out this way cool knitting bag for me!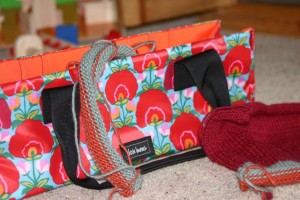 He doesn't know (and I don't think he checks my blog), but the knitting right there is Squarey from Jess Hutch's booklet. I was hoping to give him the pillow as a Christmas present. Now I'm hoping maybe I'll have it done for the last night of Channukah.
He also gave me the new Alterknits book. Besides the fact that it has cool patterns, the book is so nicely done. I love the binding.