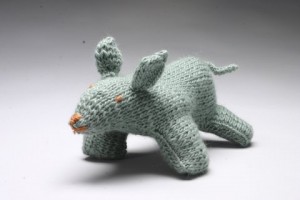 Right now I have three knitting projects in the works…
I have half a bunny from a design by Kate Gilbert. I ran out of yarn though and need to get back to Michael's (the closest one is 2 1/2 hours away).
I swatched and started the Girlfriend's Swing Coat Sweater from Wendy at Knit & Tonic. I realized that it was way too stiff though – undid the whole thing and just finished a swatch on bigger needles.
And most likely to finish next – I have a robot from Jess Hutchison's fabulous new booklet. Jess knits up most of her creatures in Lamb's Pride worsted. This past summer I knit Baby Girl a dog from Lamb's Pride and it's really great for animals. I got the pattern from a book on kids knits (I'll have to figure out which one) – in the end I think it really looks more like an aardvark.