So when I made the dog/aardvark for Baby Girl the stuffing package had an elephant on it. So she decided I needed to knit her an elephant. I found this pattern and I had this yarn so I did.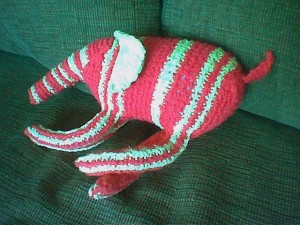 I didn't swatch it or really pay attention (typical) so it has crazy funny long skinny legs. He reminds me of a creature from the Yellow Submarine.
I also figured out which book the dog/aardvark pattern came from – it was Animal Knits by Zoe Mellor.
And in the world of blogging my Secret Pal wrote me to say Hi – so much fun!