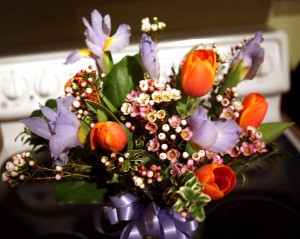 It's my birthday!
I had a wonderful day – ice skating, playing, knitting, shopping and eating (including a chocolate diet pepsi and chocolate cream pie!).
My mom and stepdad were very sweet to send beautiful flowers – which really helps this time of year in the land of snow.
And if you look carefully you'll see my new bag from The Boy acting so nonchalant. The bag is from the new women's snowboard shop in town. They carry Burton (see bag), Paul Frank, free people – just about everything I'd like!