…so behind in posting…
We went to visit my family in Tucson for a few days. It was a really nice break from the 200″ of snow (plus 5″ this morning). The only problem with traveling is that I fall behind in reading my blogs and posting to my own blog…so I have days of posts lined up (which will include receiving 3 packages in the mail while I was gone!).
My secret pal has been great about emailing and I came home to my first package! She sent tons of cute Valentine's Day stuff and even included a few things for Baby Girl – which was the best! She absolutley believes that all gifts are meant to be shared – specifically – that all gifts for other people are meant to be shared with her.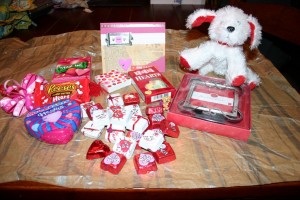 My secret pal included lots of candy – chocolate (which The Boy is helping me eat), Valentine's Day SweetTarts (which I started eating at midnight), standard hearts, a heart shaped peanut butter cup and Valentine's Mike & Ike's. She sent Baby Girl a sweet little stuffed doggy, a bear ring and a cute ribbony hair clip. She was so excited when she came downstairs to find this whole pile of stuff! Secret Pal also included for a me the most gorgeous handmade card, a beautiful picture frame and an adorable little tape measure!